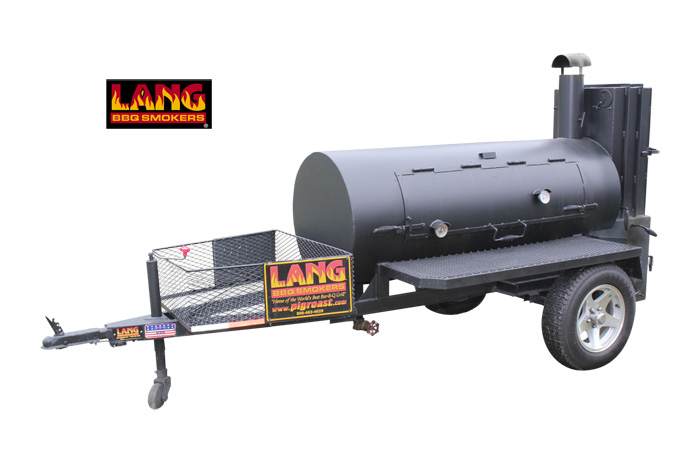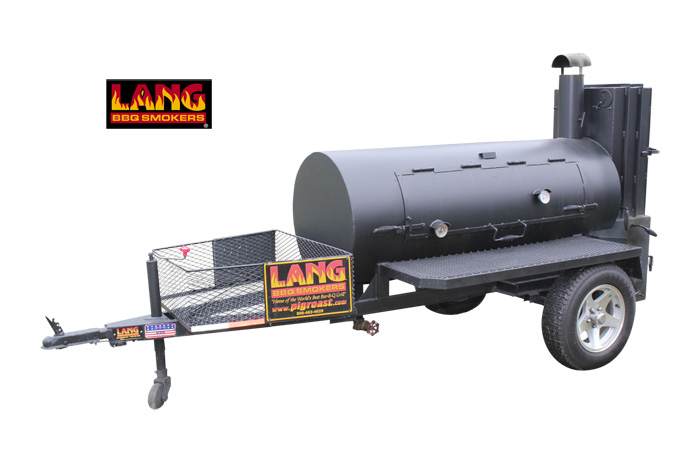 A one-time price of
$5,995.00
will be added to your order.
LARGE Cooker
Competitive Smoker Cooker and Warmer on Mobile Trailer Frame. Our most popular series for competition. Also excellent for commercial use.
Dimensions
L x H x W: 166" x 63" x 77 1/2"
Weight: 1780 lbs
Bottom (3) Racks: 71 1/2" x 28"
Upper Rack: 53 1/2" x 27"
Warmer Box: 13" x 21"
Firebox: 24" x 24"
Gauges: 2
Cooking Capacity
The 84" smoker cooker has 22 cubic feet of cooking space and hold approximately 320 pounds of food with room to spare. This size allows for a whole pig (approximately 160-180 pounds) to be smoked. Approximately 35 full racks of ribs can be smoked at a time.
The Deluxe warmer box provides additional slow cooking capacity.
Available Upon Request
No frame version for mounting in outdoor kitchen or a permanent BBQ pit at discounted price ($200 off price).
Stainless steel racks (additional price)
Talk to us about customizing your Lang to your own needs.

A complete description and other options can be seen on the web site product page.

All Models Can Be Customized

Shipping & Delivery is in addition to purchase price and is due at time of delivery.

Please Call For Quote, 800-462-4629 or Complete Form